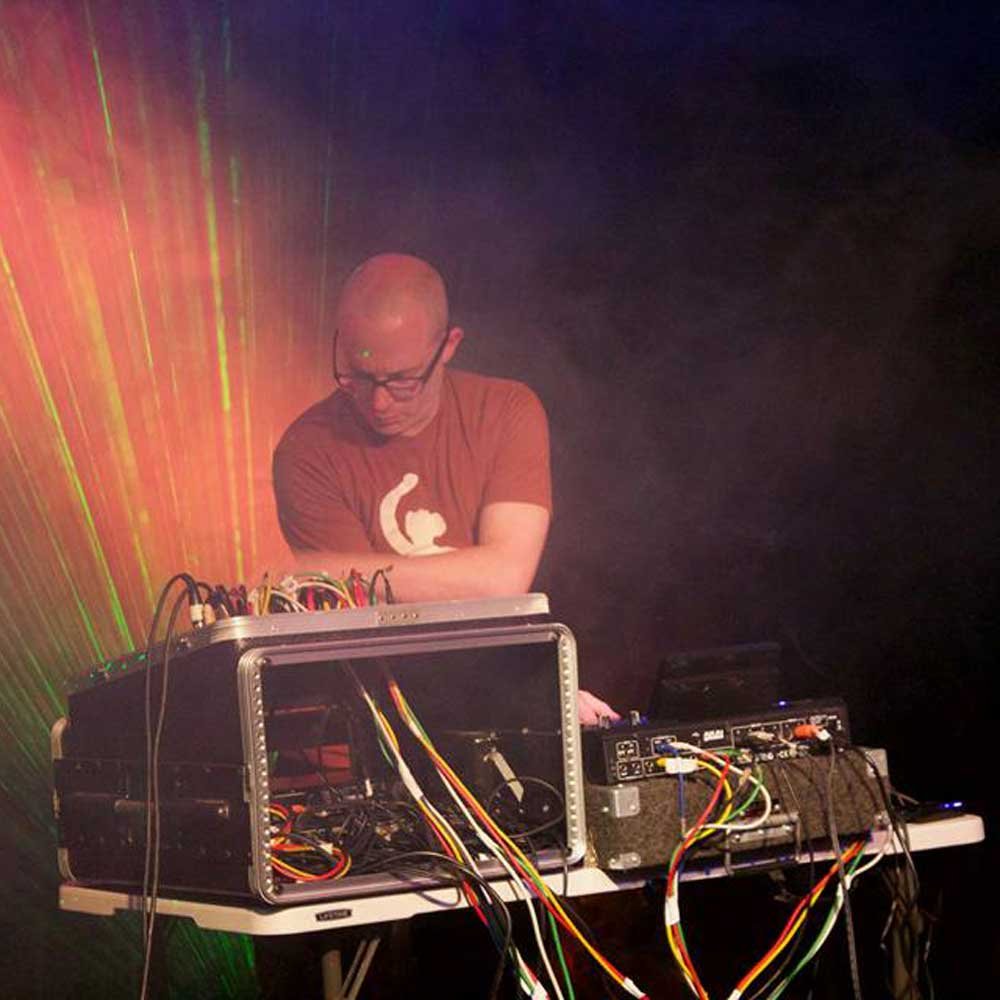 Nagamag:
Which are the genres that describe your music style better?

Son of Zev:
Techno, Breakbeat, Electro, Experimental Electronica. I'm a very wide listener of all styles of music. There are many influences that get pulled into my production.

Nagamag:
Few words about your musical background and career?

Son of Zev:
I've been involved with music since I was about 8. I struggled to settle on an instrument till I was 11 which was piano/keyboards. My school actually had synthesizer lessons and my classes were on an Alpha Juno.. That was in about 1987. I had no idea that I was playing on one of the original machines that could make the classic "hoover" rave sound..
My first experience trying to program my own synth (a DX27) was trying to make Hammond and Rhodes sounds out of it.. I was jamming blues with mates at the time as a teenager.
In 1994, after being self professed "anti sequencer" I found myself in the rave scene and loving some of the more underground sounds I was hearing (Melbourne was/is very Detroit influenced). By 1995 I was playing around with synths for synths sake, and occasionally playing as a regular guest of Melbourne clan analog band "Signal To Noise"
In early 1998 I played my first gig as Son of Zev at the iconic Punters Club, a venue I'd literally seen hundreds of bands and a handful of electronic acts. I played for half an hour, slotted into the very start of the gig. I was home. Andrez Bergen of IF? Records was apologetic for the early start and short time slot and low fee... I didn't care.
I went on to play at least 100 more shows (I lost count somewhere along the way) between 1998 and 2001, many of them with If? Records. I kept playing semi-regularly through till 1998.
Although I could put together a great live set, I was never very good at finishing tunes. Something I've since learned is most likely a product of my (very) late diagnosed ADHD..
After some big life changes, in about 2016 I set up a new studio and have released a couple of EP's and the odd single... WIth my recent diagnosis and some therapy on the horizon, I'm hoping I can channel my energies better and release a lot more music.

Nagamag:
Do you remember your first connection of love to music that was the right impact to be a music artist now?

Son of Zev:
While not my first connection, I can remember 2 very pivotal moments..
Somewhere around 1994 I saw Jammin' Unit play a live set at Club Filter in Melbourne. It's where I truly understood that electronic music could have be very live and organic. Seeing someone working their gear like that, clearly arranging and manipulating what was going on broke my perception of a person pressing play on a computer sequencer with nothing to do.
The second pivotal moment was dancing front and centre to Thomas P Heckmann playing live and changing what he was doing according to the crowd reactions and realising I really wanted to be on the other side playing my music and being at one with the crowd like that.

Nagamag:
Do you have any new music coming out?

Son of Zev:
I have 2 releases coming in the near future. Both 2 track singles.
The first "Escaped From the Vault" is a couple of tracks I found while digging through some old boxes. Backups of a demo that really hold up today. They are of a more strictly Techno sound, dark and hard, but with a lot of rhythmic exploration. It's due out on the 27th of August on Slice Records.
The second is a collaboration with Arcane Trickster. We've remixed each other's work, these should also be out later this year on Slice Records.
Aside from those, I've been in the studio a lot, and I expect that by next year there should be some more music ready for release.

Nagamag:
You mentioned that you used to play a lot of live sets, do you still do that, and are there any gigs coming up?

Son of Zev:
Absolutely, I love playing live and still like to perform a few times a year.
Lockdowns permitting I am playing at Red Betty in Brunswick on the 14th of August for a Live Electronic Musicians of Melbourne Showcase gig.
I'm also playing on the 3rd of September at Acid Slice Presents 303 909 .. At Bar 303, Northcote.. (expect Acid)

Nagamag:
Many artists listen to genres that they are not producing music for. Which track is your favorite that is NOT similar to yours?

Son of Zev:
Jimmy Smith "Root Down"

Nagamag:
Of Course Nagamag would love to listen also which is the track from a similar artist you admire?

Son of Zev:
Joey Beltram Forklift (Luke Slater's remix)
Interviewed by Nagamag on
August 21, 2021
* NOTICE: You can listen to full tracks through Nagamag's embedded Spotify player if you have already logged in at Spotify's website. If you are not logged in, you can still use it to listen a preview of the tracks.